A long time ago in a galaxy far, far away...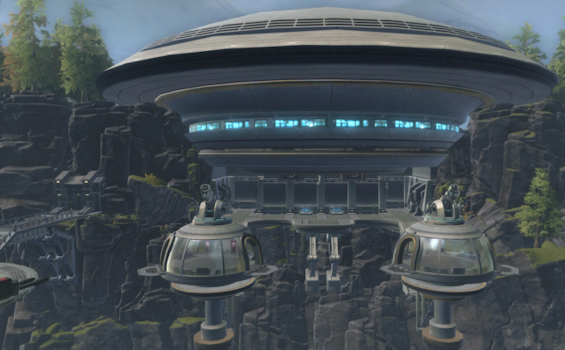 Six years after Order 66, the Galactic Empire rules most star systems with an iron fist. For the citizens, this is a time of fear and uncertainty. If the Empire's planetary governors aren't trying to strip-mine or over-farm the lands of their resources, many Force Sensitive children are forcibly taken from their homes and never seen again.

What few Jedi survived The Purge, the small, growing Rebel Alliance has pledged to identify and transport them to a secret Force Enclave on a planet codenamed: Haven.

Darth Vader, commander of the Imperial Inquisitors, has dispatched his finest with a similar mission - To identify, capture, and train Dark Side agents for The Emperor's own Sith Order. To thwart rebel insurgents. To kill any that resist the Emperor's rule.

Now, Haven faces an uphill battle to rescue all Force Sensitives from Vader's grasp. Only through greater study and preparation can this small base of survivors and rebels hope to survive and eventually, prevail...
---
New Player Links

| Character Creation | Character Property Guidelines| Common Lingo |
| Episode Structure | FAQ | Force Powers | Rules |


---
Sim Rating
This Sim contains violent themes, strong language, and some sexually explicit moments. You must be 18+ to apply.
---
Sim Affiliates

Latest News Items
Posted on Tue Mar 2nd, 2021 @ 11:43am by Shadow Knight Shana Oban HRH in General News
A continuation of the previous News Article, this guide is meant to explain the current Episode (aka Mission), and all the stories intertwined within it.



Part IV: The Rising Action

Haven is dealing with possibly volatile wildlife threats as the Enclave's inhabitants finish up their repairs and upgrades on the base. All the while, the Rebel Alliance has worked vigilantly in the stars above to construct a small space base for rapid fighter response.


Nar Shaddaa's team ran into a few problems with the local underworld elements of the Smuggler's Moon. A bar brawl took place in a cantina, for which the group met up with and joined together with a few new faces. Their next stop is to slice a camera feed, find out about what happened to a lost Jedi, and rescue Vardis from a secret Imperial research base. With elements of The Black Sun and Imps all around them, this may not be as easy a mission as the team thought.


On Kashyyyk, Nylan found a new species of stink plant more than once, Jesse and Flare made a new clone friend, and the Imperial Army dispatched a group of loyal Mandalorian Jet Trooper unit to deal with them. However, their attack failed due to great teamwork, and the entrance of Jedi Master Trey - the wookiee they were searching for.

Now, the Kashyyyk expedition must fight their way out of the jungle and somehow get through the Imperial blockade above the planet. But this may not be so easy, with an Inquisitor in the mix...


Maramere's mission to mine special cloaking crystals has been a hot, grueling task, yet when their lasers were down for repairs, the group decided to train while they waited on the drill. Regrettably, their brief moment of fun went to ash the moment an ordinance pile was accidentally, partially set ablaze. Now, their mishap may have gotten the attention of the local Imperial outpost.

If anything, getting to the ship-grade crystals is going to be much harder than the team anticipated. Now, they're in a race to attain as much as they can for the Enclave, and for the Rebel Alliance. All the while, repelling Imps as long as they can.
Posted on Wed Feb 17th, 2021 @ 5:33pm by Shadow Knight Shana Oban HRH in General News
I tend to make most Sim/Fleet announcements on ROTF's Discord, but I wanted guests and potential players who don't visit our Discord to know of our successes over the past quarter.


The 4th Quarter of last year, we swept all 4 months for their Post of the Month award. This is unprecedented and every player on this roster, at some point, helped make this happen and deserves to be more than proud of the community we've built here.

While not Gold, we still managed Silver for January's POTM. So well done!!!






ROTF also managed the Bronze Sim of the Quarter. This is an award that is nominated by all the GMs within 22nd Fleet. So it is to them and the Officers who finalized the list, that I wish to thank. Without your dedication, and the results yielded, we would not have gotten this far, much less recognized for our hard work and dedication.

All of us deserve to take a bow!!!






I want to add that the next round of Player's Choice Quarterly Awards is around the corner. I will announce when those forms are up to nominate people. In the meantime, keep up the great stories and continue to have fun!!!


And... May the Schwartz be with you.
Posted on Mon Feb 1st, 2021 @ 9:03am by Shadow Knight Shana Oban HRH in General News
I want to congratulate everyone for their hard work this past few months. Your great writing skills and dedication is what put ROTF over the top for November and December's 22nd Fleet Post of the Month wins.






So... Corellian Ale all around!!!!
Posted on Fri Jan 15th, 2021 @ 8:12pm by Shadow Knight Shana Oban HRH in General News
This Past Month we saw a few pages added to the Archives due to a busy holiday season. However, I still managed to get a bit of work done on the site. Most notably are guidelines and Nova's Mission and News terminology to better fit our universe. I've also broken down what the CO-GMs and AGMs do in ROTF, as well as breaking down the Episdoe structure.



New Pages

* Character Propety Guidelines
* Command Staff Responsibilities
* Episode Structure



Edited Pages

* Force Powers [Added 2 more powers.]
* Changed the Nova mission category language to reflect the Star Wars universe more accurately. [Missions to Episodes and Mission Groups to Story Trilogies]
* Main [Reformated the New Player Links]


Next month has no new pages planned at the moment, but knowing me and the rate at which ROTF continues to evolve, there will probably be 1-2 more new pages introduced next month. And as usual, small edits here and there will occur to further polish the overall look of the Sim's site.
Posted on Tue Jan 5th, 2021 @ 7:39am by Shadow Knight Shana Oban HRH in General News
Part I: The Prologue

It has been 2 months since The Enclave has laid Master Plex to rest. In that time, Darth Vader has dispatched more Inquisitors and demanded more traps be set for suspected Jedi-types and their sympathizers.

Haven itself has seen an uptick in Rebel Alliance allies, survivors, and Force Sensitives wanting to do their part in fighting the Empire. A few of The Enclave's Jedi Knights have even taken on padawans while others train hard to combat the Empire's troops and Inquisitors.

Force mystic, Ren Star-Gen-Su even gave The Enclave a few ideas on where to start with the base's fortifications and defensive capabilities.




Part II: Mission Departures

Much as the Jedi High Council once did, The Enclave's leadership has dispatched 3 teams to 3 separate planets. One team heads to Maramere, where they are in search of special crystals that when tuned to the Force, can act as a natural cloak against technology and sight.

A long-lost Jedi Master is stuck in The Shadowlands of Kashyyyk, evading Imperial troops. As such, to prevent further firebombing of the planet, the Rebels have asked The Enclave to dispatch their second team there. Deadly plants and vicious, massive insects await them, along with a clone running from the Empire.

The third team to leave Haven, is a group of underworld experts and a few Jedi sent to Nar Shaddaa. Their mission is to find out what happened to one of The Enclave's watchmen. Dealing with Black Sun and hidden Imperial units may complicate their efforts.




Part III: Story Unfolds

Haven, meanwhile, is busy with wildlife baby season. Trying to upgrade the base may be harder than they thought if the predators of stealth decide their territory has been encroached. Maybe the planet exploration team will have a better view of the situation?

On Maramere, the crystal heist team have to work fast to build defenses around a mine. Can they do this without getting Imperial attention? All we can assume is that the mine is very likely to be a hotly contested place once the Imps find their location.

Kashyyyk's team has split into 2 pairs. Jesse and Flare have made it clear they don't like or trust each other. Let's hope they come to terms soon, or else they could risk the mission and their lives. Meanwhile, Nylan and Illiana have gone a different path. With the young padawan's past record of fumbles and fubars, let's hope he doesn't get himself or his master killed.

On Nar Shaddaa, the Black Sun is being watched by shadowy figures. Who they're contracting with is unknown, but the deals they have made can only mean terrible things are on the horizon...
Latest Personal Logs
Posted on Sat Apr 3rd, 2021 @ 1:45pm by Soldier Vardis Kree
Well, it's not going to be long now.

I've done what I can to help from in here. Now it's up to them, this SloB and Jada, and whoever else is with them. At least I can finally get off this rock and away from these bucketheads once and for…
Posted on Wed Jan 27th, 2021 @ 6:03am by Lieutenant Aukil Secra

Aukil left the Cantina and the others to make her engagement with Zogrin. Both of their peoples were traditionally known as slaves throughout the galaxy, but some of them had risen above those labels by sheer determination. Zogrin was one that was free but chose to work for a very…
Posted on Tue Jan 12th, 2021 @ 8:36pm by Soldier Vardis Kree
Vardis Kree, Personal Log.

I am sure that this is an exercise in futility, but I need to tell someone, so I am recording this message.

Here I am sitting in the cockpit of a captured vessel that is being kept in a hidden Imperial research lab and trying not…
Posted on Sun Nov 22nd, 2020 @ 7:48pm by Lieutenant Aukil Secra
After waiting for several hours, Aukil guessed that no one was coming tonight to leave. So she officially had some free time, this was a relatively new concept for her. Most of her life she was on the move, heading from one job to the next, running away from one…
Posted on Fri Nov 20th, 2020 @ 11:11pm by Lieutenant Aukil Secra
Aukil stepped back onto her ship and closed the door behind her. She was home, in her private sanctuary. She stripped off her gloves and unbound her lekuu and shook her entire body to relax it. After the meeting with Dorvaela and Shana, she had agreed to basically being at…